Guest Lecture on 'Corporate Etiquette' by Mrs. Jyothika Shetty, Strategic Life Coach and Author
Manel Srinivas Nayak Institute of Management (MSNIM) organised a guest lecture on 'Corporate Etiquette' at its campus at Bondel, Mangaluru on Thursday, April 1. Jyothika Shetty, strategic life coach and author, was the chief guest and resource person.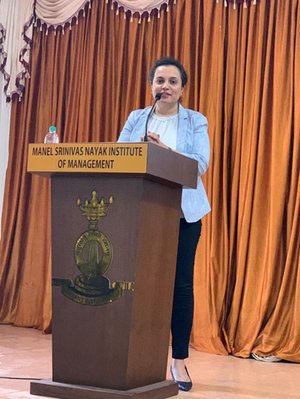 In her presentation, Jyothika Shetty enlightened the MBA students and staff members of the institute regarding the different types of etiquette, such as workplace etiquette, dress etiquette, professional etiquette, meal etiquette and meeting etiquette. Highlighting the importance of learning etiquette, she said, "Emotional control is very essential in today's corporate world. Understanding corporate etiquette enables you to assert your personality."
She animated the interactive session with a live demonstration by making the students enact different situations. She analysed the given situations and gave feedback on the proper etiquette to be observed in those situations. Giving tips on why etiquette is important in career advancement, she said "Good manners make you a better manager and help you to lead your team by example. Etiquette improves your relationships at work and makes you a preferred candidate for promotion."
Institute director Dr Molly S Chauduri was present on the occasion. Srishti Rai welcomed and compered the programme. Sonia D'Souza gave a vote of thanks. Sajan Acharya and Nanditha were the coordinators of the programme.