About the Journal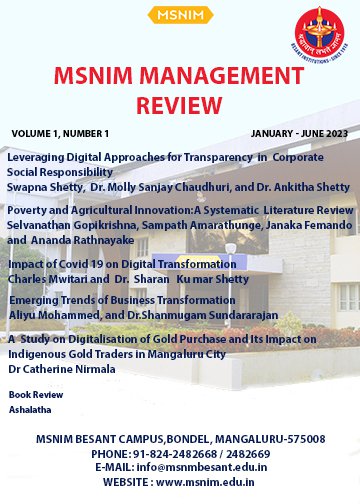 MSNIM Management Review (MMR) is a biannual journal published by the Manel Srinivas Nayak Institute of Management and structured to cater to the knowledge needs of management practitioners, researchers, and academicians. The journal publishes research-oriented articles on management and allied subjects. Articles published here will contribute to managerial insights in a format that is understandable to a varied audience. MMR invites manuscripts that provide innovative managerial insights into the core business functions. The manuscript should be precise, and the findings should support either empirical data or a well-justified theoretical model and be well-written. The sole criterion for publication is a worthy contribution to the existing management literature. The papers that focus on emerging trends from the global perspective are preferred the most.
Full-length research articles (up to 3000 words) on all the aspects of business facets and management pedagogy form the core of the journal. The concepts such as present-focused discussion, interview papers, and book reviews are also featured.
The journal is peer-reviewed and follows a 'double-blind' review process. All papers submitted go through a preliminary review at the editorial desk and those considered appropriate for publication are sent to the advisory Board.
On the recommendations of the Advisory board, the article may be granted publication or rejected.
© 2023 Manel Srinivas Nayak Institute of Management, Mangalore.
MSNIM Management Review is an open access journal available at https://msnim.edu.in/journal